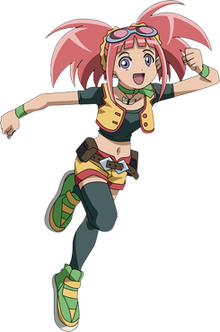 Hanabi Kadame Is A Beyblade Mechanic and a close friend of Tyson.
Personality
Hanabi is Very Kind and loyal. As a beylade mechanic she is very smart with her job. But she can sometimes be Bossy when it comes to boys.
Relationships
Hanabi Has A Good Relationship with her training student,Daichi. She always comforts him when he is sad.
Beyblade And Bitbeast
Hanabi's Beyblade is Named Rainbow Iris S7651 Smash Destruction. Rainbow iris Is A beyblade that is based on Iris,goddess of the rainbows. The element is Rainbows.
Ad blocker interference detected!
Wikia is a free-to-use site that makes money from advertising. We have a modified experience for viewers using ad blockers

Wikia is not accessible if you've made further modifications. Remove the custom ad blocker rule(s) and the page will load as expected.